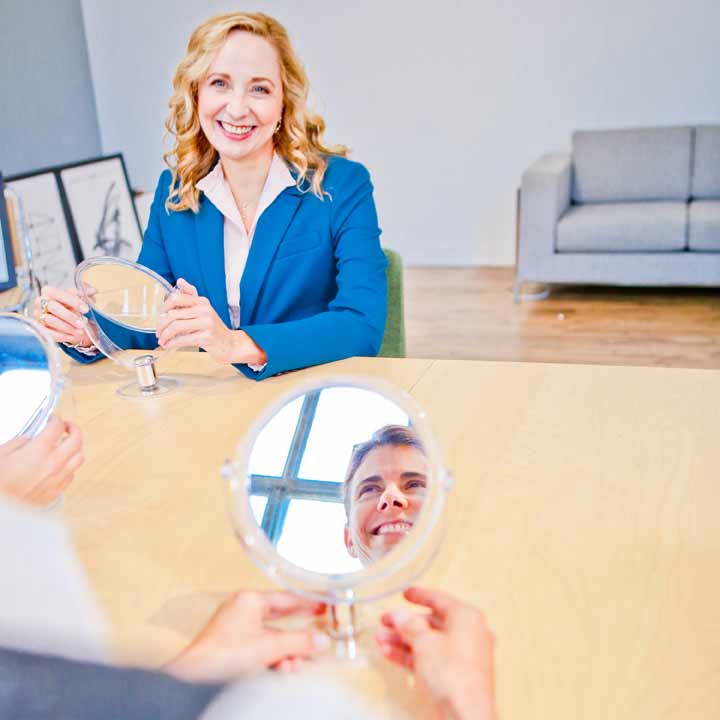 Mirror Meditation Private Guided Instruction
Coming face to face with yourself isn't always easy.
Yet the benefits can be life changing.
If you already have a meditation practice, you'll find that using the mirror will increase your self-awareness and can give you a unique perspective on what's happening inside your mind.
If you're new to meditation, the mirror can be a great tool to help you focus your attention and notice your habitual thoughts and realize how your thoughts are constantly influencing you.
You can do the mirror meditation practice on your own, but you'll get unique benefits from guided instruction.
As your instructor, Tara Well PhD will show you how to transform your self-criticism into self-compassion. You'll learn to see yourself with kindness and clarity.
Mirror Meditation Instruction Programs are designed to help you develop new skills on three levels. You can choose which is right for you.
Basic Skills
See yourself with compassion
Make peace with your inner critic
Develop calm and focus
Advanced Skills
Conquer your resistance to change
Learn the art of compassionate self-confrontation
Use your vision for clearer decision-making
Relationship Skills
Increase your comfort with being seen by others
Have more confidence relating face-to-face
Learn to reflect others with kindness and insight
Together we plan a program that's right for you.
What to expect from your session?
We'll schedule a video call (via Zoom) so you can practice in the comfort and privacy of your own space. You can have a free-standing mirror handy or use your video camera on your computer as a mirror.
Each session is unique. Here's a general idea of what happens.
We set an intention for your session and begin with a progressive relaxation meditation to help you slow down and arrive in the present moment.
Then with the mirror, Tara Well, PhD will guide you through the Five Facets of Awareness

Noticing posture and alignment
Practicing full relaxed breathing
Managing attention with visual feedback
Working with emotions related to seeing yourself
Using visual observation to facilitate deeper listening

You'll learn how to work the five facets of awareness to gain valuable insights.
You practice staying present yourself and noticing whatever arises with compassion.
We make space for integrating new insights and consider what's next for you.
Common issues we can work on together:
releasing self-criticism
accepting and loving your appearance
breaking free from selfie and social media addiction
dealing with changes in your self-image after a break-up
questioning your purpose and direction in your career
clarifying and trusting your intuition to make better decisions
feeling more connected to others and happier in your relationships
and much more!
Is private instruction right for you?
Tara Well, PhD works with a small number of individuals and accepts new students by application only.
She looks for a good fit between your needs and her offerings.
You'll find private instruction with Tara Well, PhD most beneficial if you are:
ready to make a powerful shift in how you see yourself
highly motivated to change and grow
more curious than afraid to look at yourself
willing to stay with yourself to work through discomfort
open to seeing yourself from a new perspective
If you've done or are currently involved in one or more of these personal development programs, guided mirror meditation instruction may be highly beneficial – and used as a complement and support for your overall personal development program.
Counseling: traditional psychotherapy, support groups, life coaching
Contemplative practices: meditation, yoga
Self-inquiry: personal retreats, journaling, healing programs
Private Instruction with Tara Well, PhD is not a good fit if you are:
looking for a quick fix to deal with personal challenges
believe others (parents, partners) are primarily to blame for your issues
not willing to see yourself with rigorous honesty
wanting to practice only affirmations and self-adoration with the mirror
Interested in learning more about private instruction?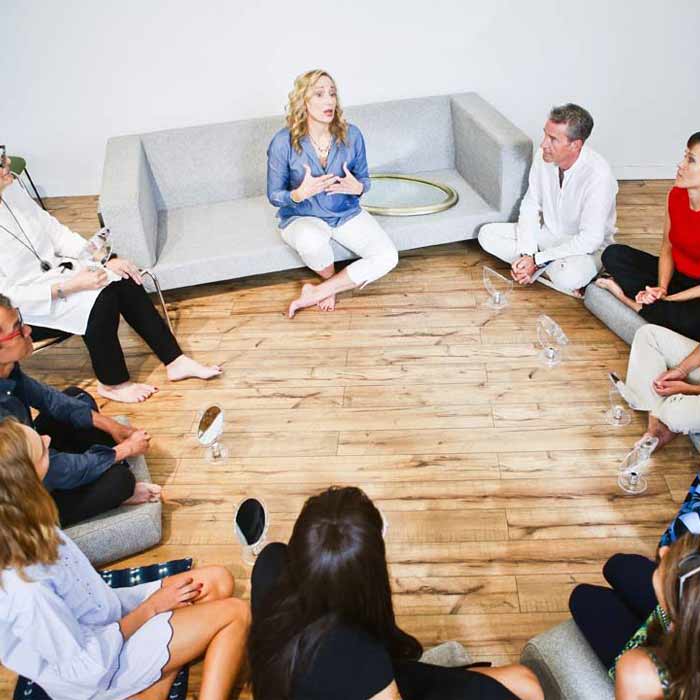 The Signature Mirror Meditation Workshop
A catalyst for deepening connections,
cultivating trust, understanding, and authenticity.
Looking for a unique experience to bring to your group?
You'll never see each other the same way again!
A shared experience that sparks creativity, insights, and revelations.
Dr. Tara Well offers full and half day Signature Mirror Meditation Workshops designed to meet your group's unique needs, suited for 6-30 person groups in private and business settings.
The Signature Mirror Meditation Workshop includes a research-based talk, followed by individual and group reflection exercises tailored to the unique purpose and goals of your group.
Popular workshop themes
The Beauty Trap
Research on body image and self-objectification
How and why the mirror evokes self-criticism and what to do about it
How to dismantle your critiques and look with kinder self-awareness
Ways to support and reflect others' inner beauty and unique qualities
The Secret to Stress Management
Research on stress and emotional resilience
The mirror as a tool to manage your inner life
How to develop more focus and calm
How to manage your inner critic and negative emotions
Being Visible
Research on self-awareness and performance
How to comfortably allow ourselves to be seen
How to feel more relaxed and confident when relating face-to-face
Learning to see others with greater clarity and compassion
There are many more possibilities!
Schedule a call with Dr. Tara Well to discuss on how the Signature Mirror Meditation Workshop can best serve your group.